Communitas recently took part in a Christmas card campaign for federal inmates at several prisons in Quebec.  The campaign was launched by chaplains at the Federal Training Centre and coordinated by Corporation Jean-Paul Morin in Laval. Other partners included Présence Compassion, le Phare de Longueuil, as well as Relais famille.  Below is a thank you note from the chaplains.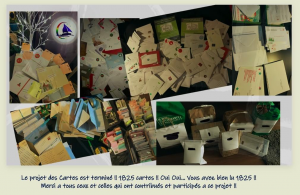 Hello!
Today we received all the cards which you sent for the inmates.
We are so touched by the outpouring of your holiday wishes for them.  Not only will our inmates receive two cards each (one from the volunteers and one from the members of the organization Relais famille). But because of your generosity, inmates from four other institutions will as well. This was not planned but is a result of the overflow of your generosity. We chose to spread more holiday cheer to as many inmates as we could. So, thank you truly. In these difficult times, just knowing that there are people out there who still care, will do them so much good.
I got to read some of your cards, and I was so moved by how creative some of you were, either artistically, or with the messages — some of which included jokes or little stories, or just simple heartfelt wishes… this will certainly bring a smile to many faces.
Like I said, I got to read a few of your cards… but Chantal Lusignan (Corporation Jean-Paul Morin) read over 1800! And she went around picking up a lot of cards. So, on behalf of all the inmates, chaplains, and volunteers, we thank you for all that you have done for us.
Sabrina