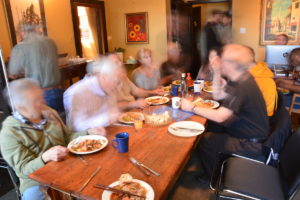 At the heart of our work is an effort to build an inclusive, supportive, and enriching community into which those who have spent time in prison can return. On top of being the right thing to do, this sort of community is crucial in ensuring a successful transition after release from prison. With all of this in mind, Communitas offers several larger-group activities aimed at breaking down barriers, building healthy relationships, and fostering personal growth.
Open Door
Open Door is an inclusive weekly gathering where a mix of community members, formerly incarcerated individuals, and current prisoners on escorted outings all enjoy a presentation or activity, followed by refreshments and social time. The topic of the evening, which can range very widely, is never known in advance. So, what keeps Open Door participants coming back so regularly? The answer is the Open Door community itself, which is as welcoming as it is dynamic.
Whether you're looking for support during your reintegration journey, an opportunity to make a difference in your community, or just something to occupy your Tuesday night, consider this your open invitation to join us at Open Door!
Every Tuesday night from 19:00-21:00
(During Covid restrictions, Open Door is held online through Zoom.) 
Table Talk
Every Friday, Communitas hosts a free, inclusive lunch at our office for those living in the community, whether formerly incarcerated or not. The food—prepared by our talented chef—is delicious, and the company is even better. For those who understand the power of a shared meal, Table Talk can be a great way to nourish supportive relationships, check in on our neighbours, or hear others' perspectives on the latest news.
Temporarily on hold due to Covid Restrictions.
Movie Night
Come join us the first Monday of every month for a free movie screening at our offices. The popcorn is delicious and the audience friendly, making this an entertaining way to spend a Monday night in an inclusive community setting.
Temporarily on hold due to Covid restrictions.
Community-Building Workshops
Once or twice a year, Communitas organizes experiential community-building workshops that create opportunities to break down barriers and learn to communicate despite our differences. Typically, these workshops take place over two days and can take place in either the community or within local prisons.