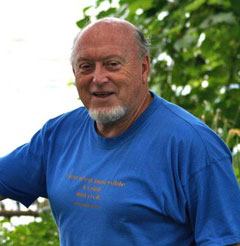 Fernand Bessette, a Brother of the Holy Cross, died Sunday, 4 October 2020 on the Feast of St. Francis of Assisi, after a short illness.  Fernand was a long-time member of Communitas who attended our Open Door meetings over the years and even acted as an escort driver for us, picking up and dropping off the inmates from Ste-Anne-des-Plaines Minimum Institution as well as from Montee St. Francois Minimum Institution in Laval.
He was a gentle man who listened more than he spoke, but when he did share his thoughts it was always amazing to learn of all the things he had done with his life.  His sharing about the time he spent living in India was rare, but it clearly marked him in a significant way.
Fernand smiled and laughed easily, and you would never know from his demeanour how much he personally did for the men in prison.  He not only acted as an escort for incarcerated men attending Communitas' events, but entered fully into the spirit of our activities, even going so far as to be the Santa Claus at one of our Christmas celebrations.  Nearly every day Fernand could be faithfully found in the prisons of Quebec, accompanying men whether as a Chaplain or just as a listener.  He also escorted inmates to other events connected with their work-release and other reintegration programmes.
As a Brother of the Holy Cross he was deeply devout, and a caring and compassionate soul whose heart touched hundreds of men over the years.
He will be greatly missed by his friends at Communitas.
Memories
So sad to hear…  I will always remember whenever the two of us would be going through a door he would tell me… "after you"  & always made me go through first….and he would always say: "The first will be last and the last will be first" and we would always have a good laugh every time……  Gaby.
Sad news indeed! To lose such a giving soul, one who never failed to be kind, is a great loss to us all… I have no doubt he will continue his Good Work in the life beyond – in joy, painless, and limitless…  Roger
"With every contact, even a momentary encounter in a penitentiary parking lot, Fernand had a gift for making the other person feel important. Imagine, he was the one who had embraced another way of life in India while we were playing it safe at home, yet you were the one who came away feeling interesting."        Steve
Email your memories to communications@communitasmontreal.org